Finally, a gun rack that keeps guns secure, whether hidden or on display, and ready for quick access.
Stay safe and protected at home. Store guns safely…access them quickly.
Only Tufloc gun racks offer the X-LOCK which keeps guns locked and easily accessible while keeping them secure and visible.
X-LOCKS are manufactured with high-strength stainless steel arms and aircraft-grade aluminum for precise tolerances and then heat-treated for strength and durability.
Accommodates a wide range of long guns–from rifles to shotguns
Will accommodate guns with scopes and other accessories
Space-saving design eliminates the need for heavy, bulky safes
Quick and easy installation, almost anywhere
Secure, open display of guns
Immediate access to guns
Standard keyed lock comes with 2 keys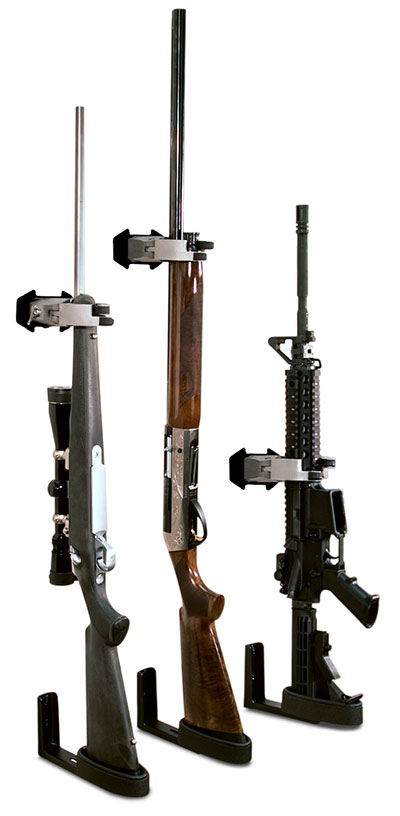 RATCHETING ARMS
Self-adjusting, ratcheting arms secure most makes and models of guns. Gun rack mounts to drywall, concrete, wood or brick walls.
SPRING-ACTION
Stainless steel, spring-action locking arms allow for quick and easy access to gun. Neoprene padding protects guns and keeps them from being scratched.
PROTECTS THE GUN
Cast metal pocket with rubber insert protects the gun stock while securing it in place.
FINGERPRINT READER
Lock functions with a tubular key. For faster access, an optional Fingerprint Reader with keypad and RFID reader can be added.
Tufloc Lockable Gun Racks Combine Security with Pride in Your Display
Those of us who own firearms are usually proud of them. There's nothing better than the first time you take aim, loading up a magazine of your favorite rounds; and when it comes time to clean the ins and outs, you take pride in making your firearm as pristine as the day you bought it. With a home gun rack from Tufloc, you can proudly display your firearms in your residence wherever you please without compromising safety or security. A gun display rack is more than just showing off your prized possessions; it also offers an excellent option for quick and efficient access for when you need them the most. Our locking wall gun racks are made from high-quality, durable powder-coated steel and provide tamper-proof locking mechanisms to ensure your firearms don't fall into the wrong hands. With Tufloc, you get the best of both worlds, a lockable gun rack for your home that keeps your firearms where they should be — and the ability to display them proudly.
We Carry Residential Gun Display Racks for All Your Guns
Whether you're looking for a rifle display rack for your M-14 or a wall gun display rack for your Sig Sauer and Glock pistols, we have the residential lockable gun racks to fit your firearms. Plus, all of our products can accommodate any accessories you may want permanently attached to your guns. On our website, you can find:
Locking Rifle Racks for Long Guns
Locking Wall Gun Racks for Pistols
Lockable Gun Racks for Firearms with Scopes
And More!
Why Choose a Tufloc Home Gun Rack?
Tufloc home gun racks eliminate the need for bulky safes that are hard to transport. You can install your locking wall mount gun rack almost anywhere in your home based on your personal preference with peace of mind in their security. We've made sure to set the gold standard in durability, safety and display. Also, we've got everything you need for your entire collection! Whether you have one rifle or four, our single or quad rifle display racks will get the job done. We can even get you a gun display rack that's suited for up to 12 handguns and will last you a lifetime. The better question to ask would be, "Why shouldn't you choose a Tufloc home gun rack?"
How Does a Fingerprint Gun Lock Work?
With our X-Lock locking wall gun racks, you'll have an option to add a fingerprint gun lock rather than a traditional cylinder lock. This gives you even faster access to your firearm and enhances your security capabilities. To use it, all you have to do is program it by placing your finger up against the scanner. Your biometric fingerprint will be stored in your reader's memory, so all you have to do to unlock your firearm is scan your fingerprint again. Safe, fast, simple.
Is It Easy to Access a Firearm from My Lockable Gun Rack?
At Tufloc, we've made our locking wall gun racks as accessible as possible in a worst-case scenario. Even if you don't opt for a fingerprint gun lock, you can still quickly get to your firearm, unlock the cylinder lock and pull the gun down from the rack in a matter of seconds. With an open gun display rack, you'll have immediate access to your firearms at all times.
Will My Children Be Able to Unlock My Rifle Display Rack?
The best part about our locking wall mount gun racks is your ability to install them anywhere in the house. This means you can prevent your children from having any access to them by putting them in high places they can't reach or in places of the house they can't get to. Even if you choose to display your guns in an open area where they could potentially touch them, our lockable gun racks come standard with our proprietary locking cylinder system, which features tamper-proof technology. Unless you give them access to your key, they won't be able to accidentally take a gun off your home gun rack. If you wish to learn more about the assembly and installation process, please consult our Resources.
Shop Tufloc for a Residential Locking Wall Gun Rack Today
Tufloc aims to give everyone a chance to take pride in their firearm without compromising security or safety. With a residential gun display rack, you'll have direct access to your firearms when you need them the most and eliminate the possibility of them falling into the wrong hands. Shop our full selection of home gun racks today and find the one best suited for your residence and firearm. If you have any questions about our products, contact us at any time. We're happy to help you find the best gun or rifle display rack for your specific needs or give you additional information.